Carry on windows
Cut foil, added buttermilk pigment wash, photograph, acetone prints on tissues from local shops
in situ
2019
Contribution to the exhibition (06.06. - 30.06.2019) of Women on Aeroplanes: Stopover at TOR in Frankfurt/Main, tended by Marie-Hélène Gutberlet and Annett Busch. More information on the Women on Aeroplanes project at woa.kein.org.

Other works in the exhibition were:
Temitayo Ogunbiyi, A Line, 2019

Fatoumata Diabaté, Le jardin de l'AFMM à Montreuil, 2006 (The garden of the Malian Women's Association in Montreuil)
Fatoumata Diabaté, La cour du foyer Bara, 2005 (The court yard of the Bara hostel)

Rahima Gambo, A Walk, 2018-2019

They were accompanied by the Women on Aeroplanes library, four issues of the Women on Aeroplanes Inflight Magazine, Women on Aeroplanes posters, chairs, benches, and a table, black fabric screens to pop into the windows, a projector, an assembly of plants that came our way while setting up the show, the exhibition map and gathering program, as well as a quote by Kojo Laing cut out from a semi-transparent black mirror foil, and all that which happened impromptu at the gathering.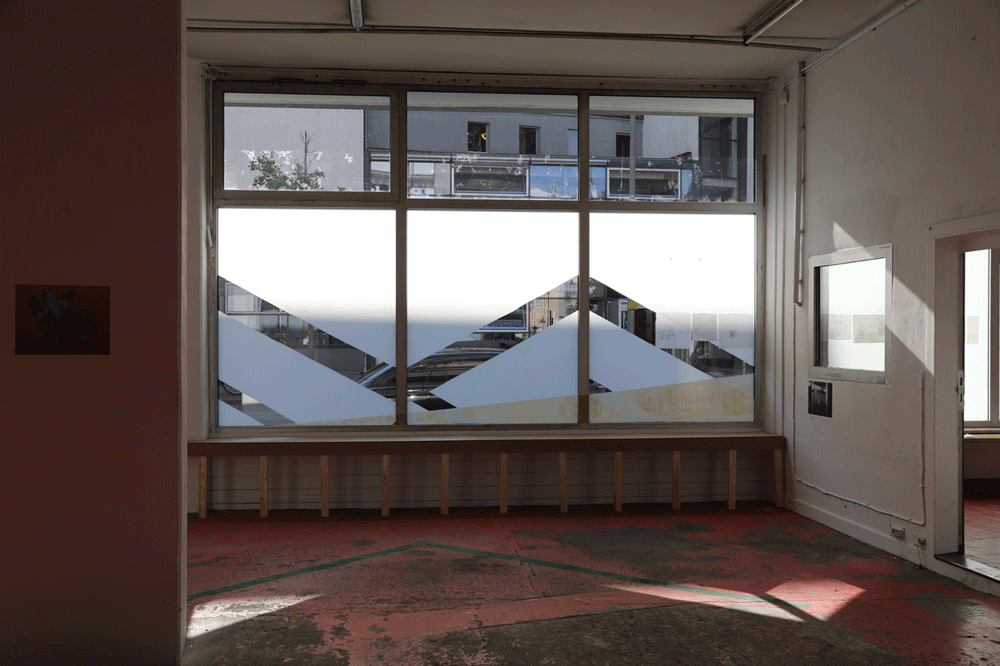 Morning at the exhibition. Light creeps in through the cut-outs to anchor the space to the sun in the galactic arrangement of bodies. Like a plant, the floor reacts to the light in green pigmentation. Like a photograph, an image is exposed and developed. Moving bodies behind the windows gain a filmic quality; their moving directs the eye to sweep up and down their shells as they rush along. An occasional gaze hits the space in turn. On the pillar in the front, a photograph from Rahima Gambo's series A Walk.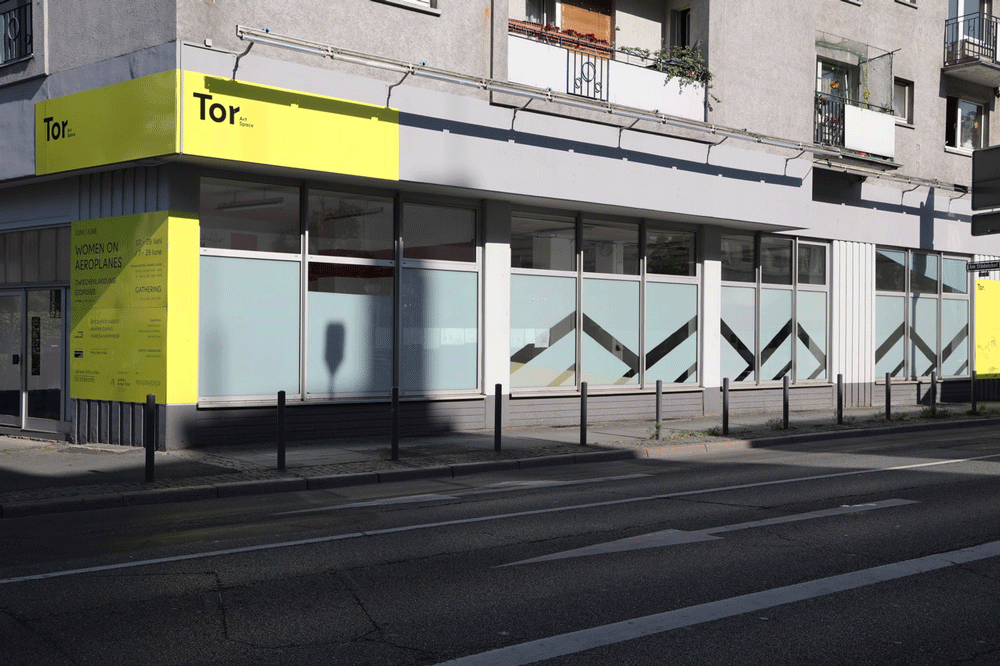 View of exhibition space from outside, corner of Allerheiligentor/Lange Strasse.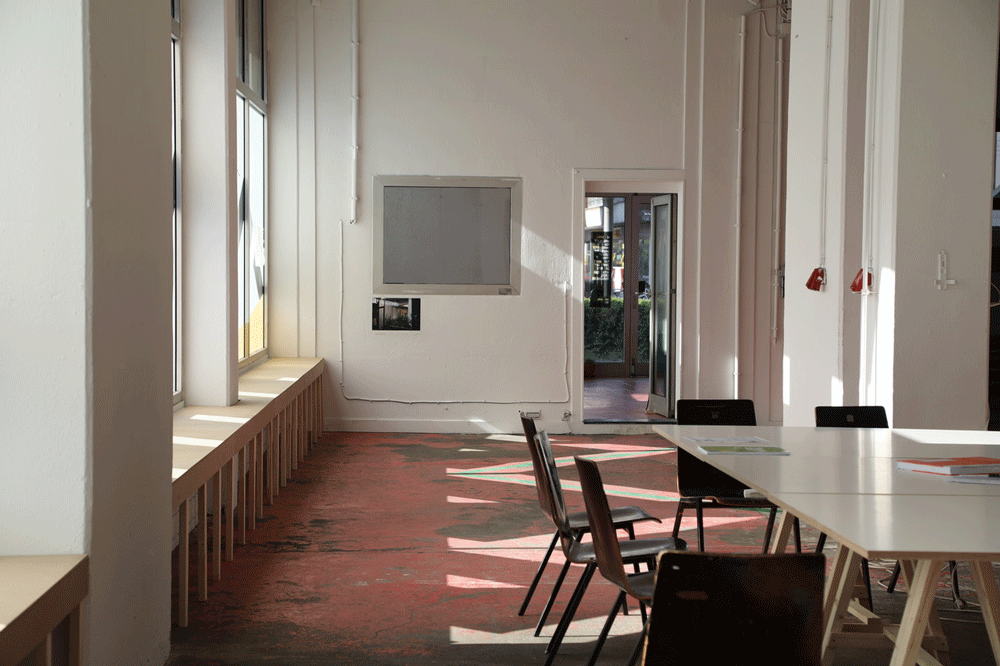 In the nook far back behind us, there are Fatoumata Diabaté's works. Table, chairs, and benches are set up for those who want to linger here. Through the cut-outs in the milk foil on the windows, lines of light fall into the space. The two green lines of pigment trace two major diagonal axes between works in the exhibition. The zigzag pattern of light is interrupted by shadows of corners. They, unlike the two green traces, don't meet, reminiscent of a route full of stopovers.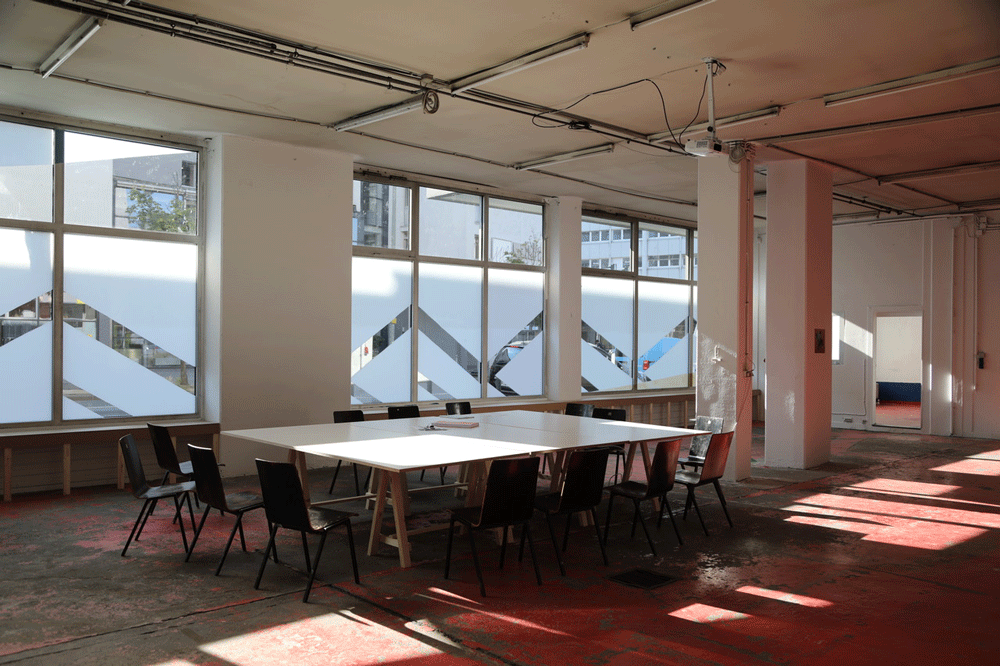 The two triangular strips of rough pigment paint, ockre in the bottom right, and blue in the top left, frame and tilt the window panes. Colours and positioning associate with Pamela Phatsimo Sunstrum's mural piece at The Showroom in London made for the previous stop of Women on Aeroplanes, which reflects Bessie Head's poetic Botswana landscape of exile.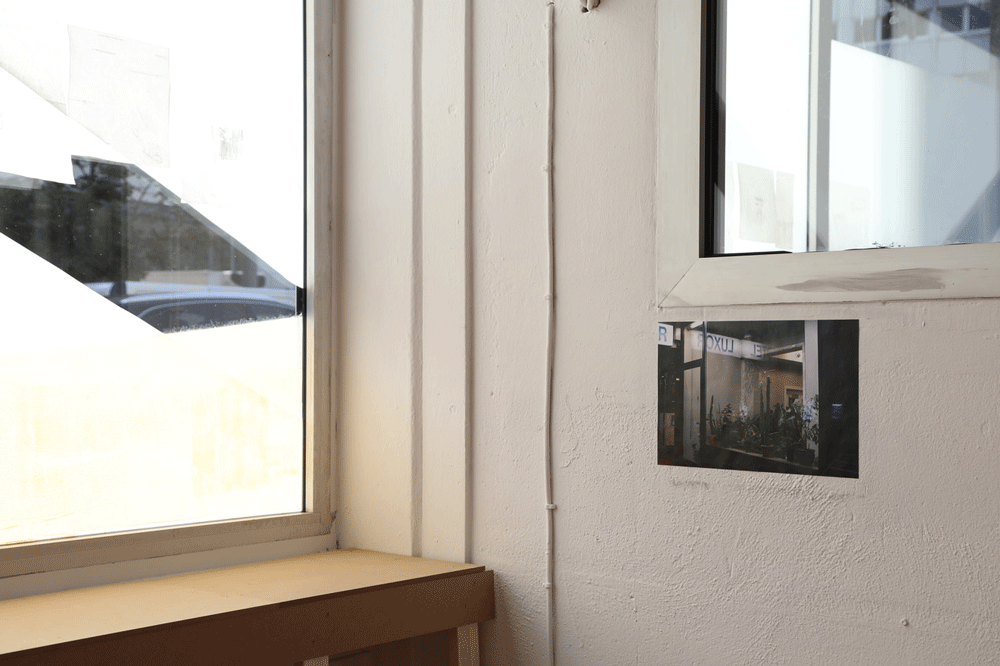 View of bench (Marie-Hélène Gutberlet, Janusch Ertler, and Patrick Keaveney), and part of the Carry on windows installation. The photograph from 2014 shows Hotel Luxor at night. Looking at the picture, and then bending slightly to look through the cut-out in the window, the actual place can be seen across the street. There is a reflection of the hotel sign in the window, and an ocean of plants brightly lit. During the exhibition, the hotel was closed due to renovations.
shifting landmarks

(...)

this is touch and go
text, safe representation is akin to a guy on the couch who controls the world from his TV
text, progressive writing moves with a woman in flight
ongoing ongoing
this is the everyday
holding up this building
turn the doomed fuel station
into a landing strip
a touch-down beacon

touch and move
humming along and echoing back
we collect losts and interrogate founds
what is in your carrier bag today my dear
what are we filling our pockets with stories for
what if a critter jumps down from the net
midflight
an invitation to caress
a personal story
skip skip skip
touch ground unground

touch the ground
kiss it
killed it
there is some space in my luggage for your story
are we going the same way
then bring it in there
a touch-over
a plane in reverse
crosses borders as easily as the one that just goes up and ahead
go ahead
even if the distance crossed is irreversible
the plane can flow back to the same point twice
or thrice she can
have you been
have i been where
up in the light

(...)


Excerpt of poem printed in Women on Aeroplanes Inflight Magazine #4, 2019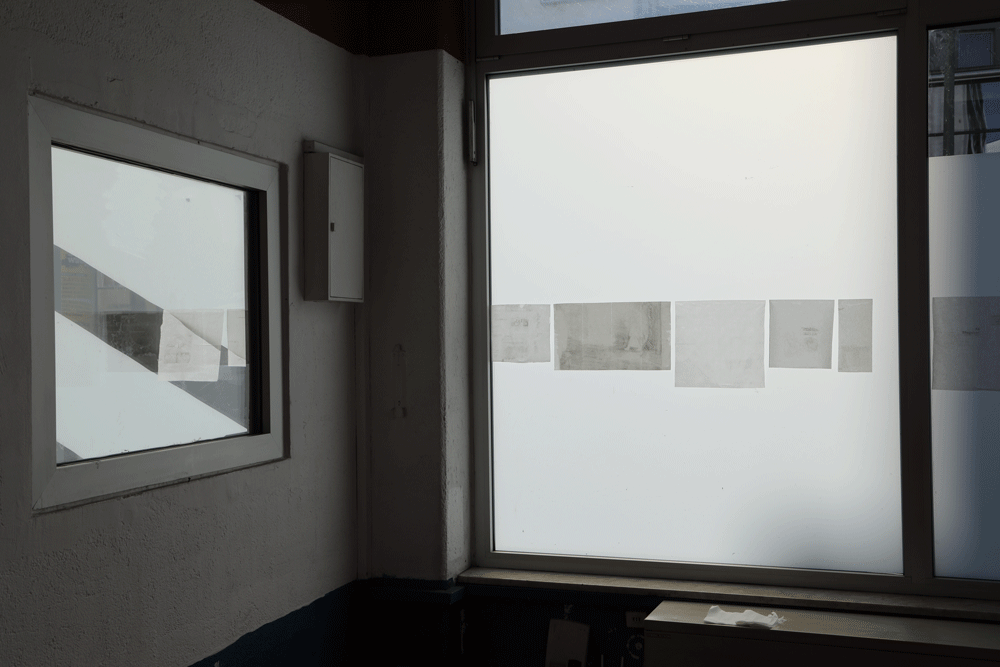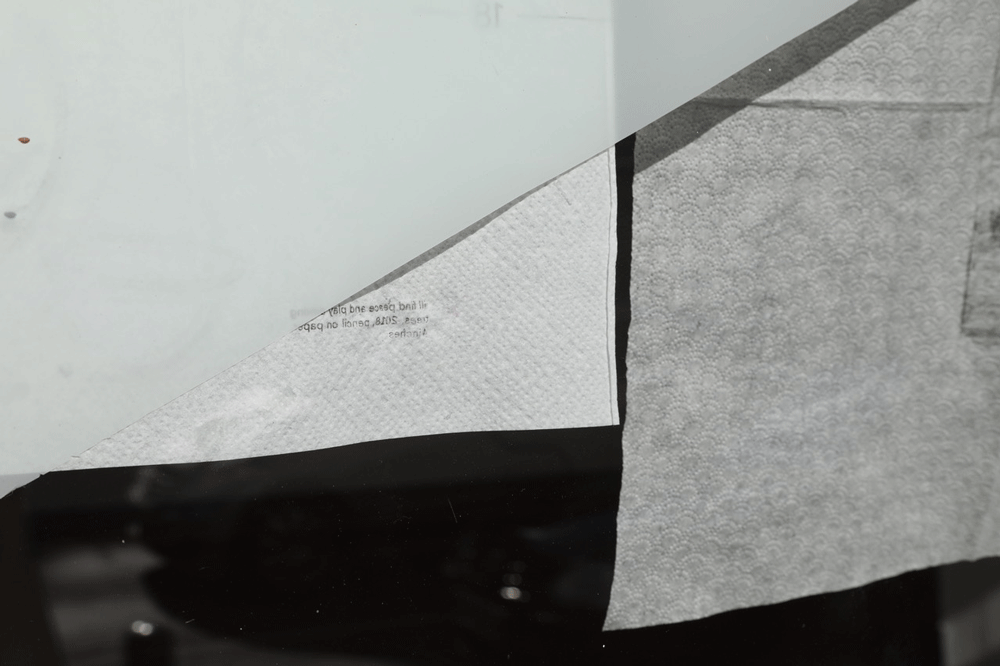 Prints from left to right:
Tissue from EmirET Grill on Allerheiligenstrasse, rub-off of "Pamela Phatsimo Sunstrum, Exalt B.H. 2018. Painted mural on the exterior of The Showroom. Photo: Daniel Brooke" with image, from The Showroom website.

Tissue available at TOR, rub-offs of Temitayo Ogunbiyi "You will find peace and play among palm trees, 2018, pencil on paper, 18 x 24 inches" in Inflight Magazine #2, p.19, the page number 18, and a schematic drawing of the inner ear.

Tissue from EmirET, rub-off from Inflight Magazine #1, p. 14: "Samia Lakhdari, Zohra Drif, Djamila Bouhired and Hassiba Ben Bouali, the bomb planters in the Battle of Algiers" with image.

Tissue available at TOR, rub-offs from collage by Marie-Hélène Gutberlet in Inflight Magazine #1, p. 10.

Tissue brought from Berlin, rub-offs of a still image from Rahima Gambo's collaborative video work Tatsuniya (2017-ongoing), Inflight Magazine #1, p. 30-31.

Tissue from a Samosa stall on Münchenerstrasse, Inflight Magazine #1, p.25 (including page number), parts of a text by Kodwo Eshun, "Specific Grammars of Intricate Displacement".

Tissue available at TOR, rub-offs of another schematic drawing of the inner ear, and the word "FEMMES" as photographed by Marie-Hélène Gutberlet in a series of images of library shelf categorizations.

Tissue from Berlin, rub-off from Inflight Magazine #3, p.23 (including page number), a conversation between Pamela Phatsimo Sunstrum and Thenjiwe Niki Nkosi: "What has been so important about sharing a studio space is that anybody who comes in necessarily has to meet with, or deal with, or see both of us. I think that's radical. Straight sharing sometimes implies that some- thing becomes less because you've divided it. Whereas radical sharing means that the thing becomes more because you are equally nourished by it. Rather than being about a portioning out of what's available, it's more of a pooling and then augmenting of what's available. (261—62)"

Tissue from EmirET, rub-offs from a Guardian article by Gordon Bowker, 2007: "As this information was on Orwell's 1927 passport it can be presumed he acquired the tattoos in Burma. He was never a properly "correct" member of the Imperial class - hobnobbing with Buddhist priests, Rangoon prostitutes and British drop-outs. As Orwell himself noted, rebellious Burmese tribesmen thought tattoos gave magic protection from British bullets, and, as he himself grew more rebellious, perhaps he felt in need of his own protection against official hostility. The tattoos were probably a sign to members of the British establishment in Burma that he was not "one of them" - an attitude he sustained throughout his writing career. That attitude, highly fruitful for his writing, was also what made him a suspect to the intelligence authorities.", from Inflight Magazine #4, p. 4-5, poem by Theresa Kampmeier "pretending to keep them in the air", "#4 Stopover", and p. 25, headline of a BBC radio script by Venu Chitale, "How to make do without meat".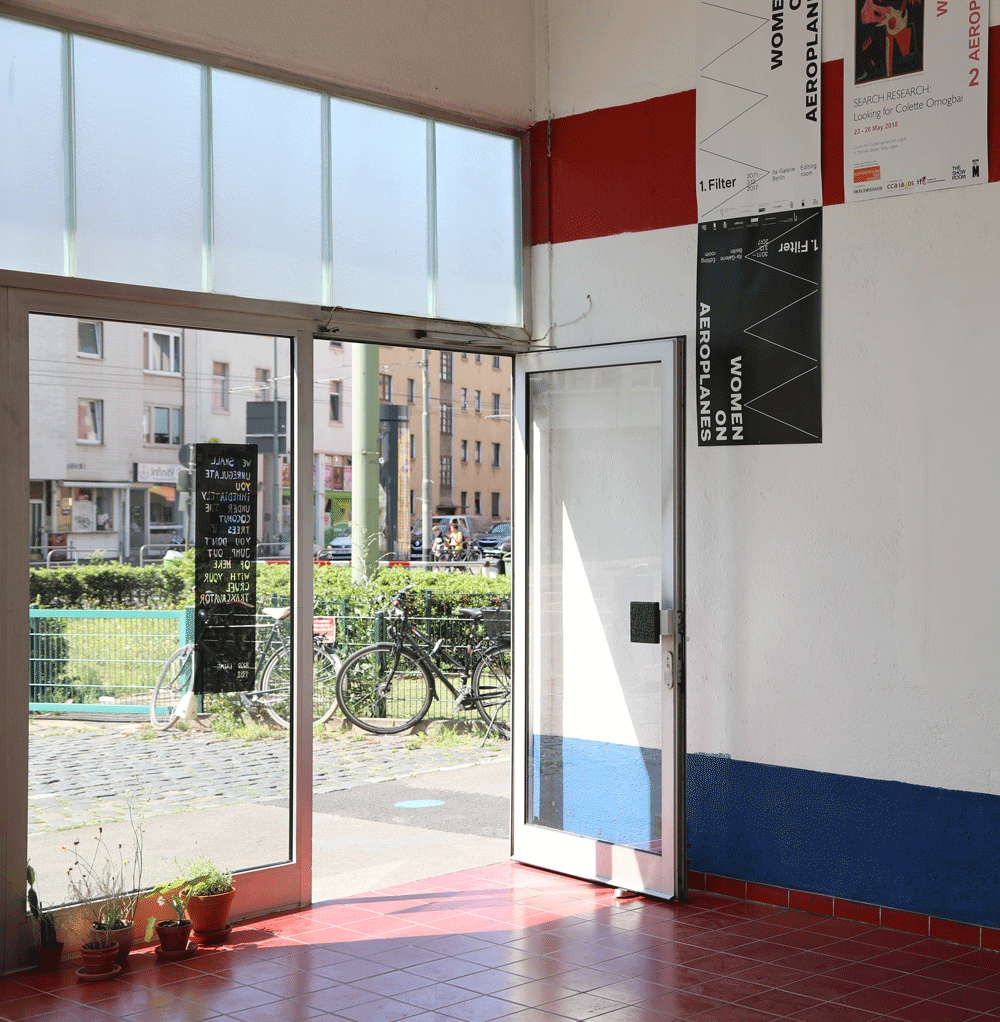 View of entrance to the exhibition space where Kojo Laing is quoted from his 1988 novel Woman of the Aeroplanes:
"We shall unregulate you immediately if you don't jump out of here with your cruel traxcavator"